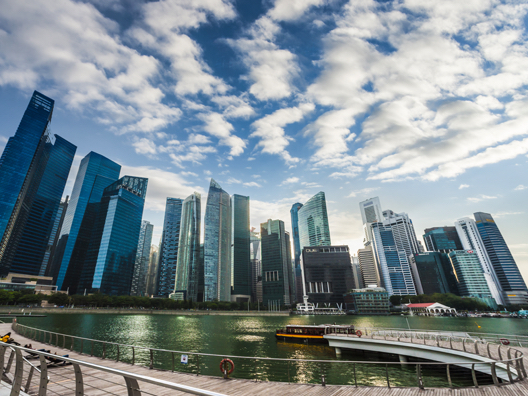 Tap into Asian markets via Singapore
Empower your multinational organisation with easy access to growing Asian markets with our Singapore Data Centre. Host your IT infrastructure and back up your data in a secure, reliable and connected environment in SGCS2 to help drive business growth.
Expansive hosting facility housed in Singapore
Uptime Institute-certified tier III data centre with over 45,000ft² of gross white space and capacity for 1,500 IT racks.
Software-Defined Network (SDN)-enabled
Intricate network connectivity both locally and globally, with TPN-enabled facilities.
High level of physical security
Our Singapore facility is secured with 24X7 surveillance and restricted access.
Our on-site, hands-on team acts on your behalf and available to support your needs 24X7.
Designed to protect your data
UPS feature with 10kVA max rack-power density and back-up generators; controlled environment with chillers in thermal tanks.
Confidence that your data is secure
A standalone facility with physical security and monitoring, quick fire response and detection, and restricted access, SGCS2 ensures your data is secure 24X7.
Simplify IT infrastructure management and maintenance
Get virtual accessibility with Remote Hands - instruct on-site experts to support manual activities and deliver timely support on your behalf to cut costs.
High level of reliability
Power, mechanical cooling and connectivity are designed with redundancy in mind to provide optimal uptime to your data for continuous access and operations.
Flexible hosting
SGCS2 caters to customers with varying requirements, from the number of racks to a comprehensive range of products to form your own Hybrid Cloud.
Convenient location
SGCS2 is located close to local police and civil defence forces, local train station, and is only 12km from the international airport by nearby expressway.
Certifications and Accreditations

ISO 27001 Information Security Management

Uptime Institute Tier III Certified
Global reach
We have 58 data centres in key locations with software-defined networking capabilities through the Telstra Programmable Network.
Leading innovation in software-defined networks
Telstra Programmable Network is the industry's first globally connected on-demand networking platform, developed in-house using an agile DevOps model. We are continuing to build capabilities that power your competitive advantage, including a $3b commitment to digitising our network services.
One partner for all your cloud needs
Simplify your IT management with access to leading cloud platforms, networks, expertise and tools all in one place.