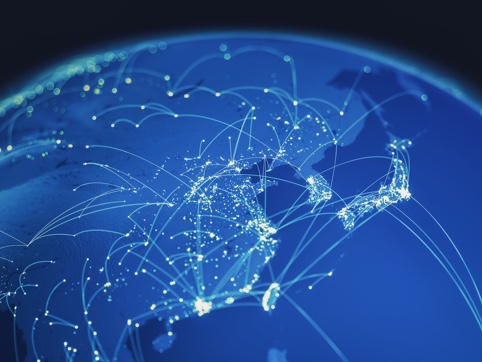 High capacity networks reliably delivering content globally
Reach viewers and deliver engaging content experiences across the globe via a high capacity network. Our media networks and expertise can help you optimise your operations and generate efficiencies without sacrificing performance.
Our networks are managed by a global broadcast operations team to help ensure delivery with unmatched reliability and visibility.
Discover our media network solutions
3 people in front of world icon
Customisable global networks
Media networks with scalable bandwidths designed to build an end-to-end media solution. These include the Telstra Global Media Network, Special Events Network, and the Distributed Production Network.
Broadcast Expertise
Telstra Broadcast Services brings to our customers a dedicated team of media industry professionals, high performance media networks, online video and cloud platforms, satellite services, and 24/7 bookings, operations and engineering support.
two people with light bulb flashing between them
Technology investment to lead strategic innovation
Benefit from our ongoing strategic investment in our networks and technology, which has seen us provide remote production capabilities throughout our global network.
Tower ontop of globe icon
Extensive, fast and reliable network
Connect to new opportunities around the world with a subsea cable network that reaches more than 400,000km – enough to circle the world almost 10 times.